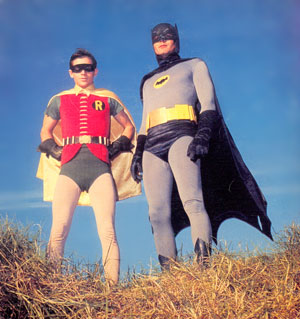 I've always thought this 1960s era Batman was the standard. When Batman came out in the movies theaters in 1989 thru 1995 and even with the animated series of the early 90s that aired on FOX Kids, I've always thought the 60s Batman was the standard. I don't remember when my standards changed.
I was more riveted by the animated Batman and Iwould later go see Batman Forever in 1995. I decided to get the three Batman movies already out on video. I even got to purchase from Best Buy, the animated Batman's feature film Batman: Mask of the Phantasm. These were some great movies.
Hmm I should pull them out one day. I've already seen Batman Begins once too many times since I got that movie on DVD.
As for the 1960s Batman, well, I was watching them in the era when the darker and much less camp Batman was the style. I could still watch Adam West and Burt Ward on the FX network in the 1990s. These days I can settle for watching them every weekend on Channel 23 in Chicago.